Cathedral is Open For Visits



Wednesdays:

11:30 am to 3 pm


Saturdays:

2 pm to 4:30 pm

View the Vatican authorized full size replica of the Shroud of Turin
Venerate the relics of Blessed Bishop Martyr Mykola Charnetsky, CSsR and Blessed Sister Josaphata Hordashevska, SSMI
Experience the beauty of traditional Byzantine icons and mosaics



Divine Liturgies:




Saturday:

4:30 pm English


Sunday:

9 am Ukrainian
11 am English

World Meeting of Families Week
(Special Visitation Hours)
Monday, September 21, 2015 through Friday, September 25th:

9am - 7pm
Divine Liturgy at 9am
Saturday: September 26, 2015:
9am - 4:30pm
Divine Liturgy at 9 am and 4:30 pm
Sunday: September 27, 2015:
Divine Liturgy at 9 am and 11 am

About Cathedral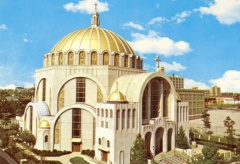 Located in the historic Northern Liberties district in Philadelphia, Pennsylvania was erected in 1966 through the effort of Ukrainian Catholics in America. This magnificent edifice, designed by Julian K. Jastremsky, replaced the old Cathedral Church which had been purchased in 1907 by Bishop Sotor Stephen Ortynsky, O.S.B.M., the first bishop of Ukrainian Catholics.
The present Cathedral, constructed to reflect authentic Byzantine architecture, is built in the same style as Hagia Sofia (St. Sophia) Cathedral in Constantinople (present day Istanbul, Turkey). It also mirrors the beauty and richness of the religious and cultural heritage of the Ukrainian people. Basic geometric forms were purposely and consistently used to develop the character of the building. Almost no ornamentation is needed, though the completion of the interior embellishments is an ongoing process which will continue over the years.