Bulletin Archive

September 17, 2017 (PDF)
September 10, 2017 (PDF)
September 03, 2017 (PDF)
August 28, 2017 (PDF)
August 20, 2017 (PDF)
August 13, 2017 (PDF)
August 06, 2017 (PDF)
July 30, 2017 (PDF)
July 23, 2017 (PDF)
July 16, 2017 (PDF)
July 09, 2017 (PDF)
July 02, 2017 (PDF)
June 25, 2017 (PDF)
June 18, 2017 (PDF)
June 11, 2017 (PDF)
June 4, 2017 (PDF)
May 28, 2017 (PDF)
May 21, 2017 (PDF)
May 14, 2017 (PDF)
May 07, 2017 (PDF)
April 30, 2017 (PDF)
April 23, 2017 (PDF)
April 16, 2017 (PDF)
April 09, 2017 (PDF)
April 02, 2017 (PDF)
March 26, 2017 (PDF)
March 19, 2017 (PDF)
March 12, 2017 (PDF)
March 5, 2017 (PDF)
February 26, 2017 (PDF)
February 19, 2017 (PDF)
February 12, 2017 (PDF)
February 05, 2017 (PDF)
January 29, 2017 (PDF)
January 22, 2017 (PDF)
January 15, 2017 (PDF)
January 08, 2017 (PDF)
January 01, 2017 (PDF)








Ukrainian Catholic Archeparchy of Philadelphia
Website (click here)


Byzantine Church Supplies
click on the picture to go to the site




Cathedral is Open For Visits

Please call for a Tour of the Cathedral and/or Treasury of Faith Museum at 215-922-2845 or 215-627-3389. Thank you.

Divine Liturgies:
Saturday: 4:30 pm English
Sunday: 9 am Ukrainian
11 am English


Chapel: Please note the Chapel is located in the Cathedral Rectory, next door to the Cathedral. Please enter from the 8th Street side of the Rectory.


Hierarchical Divine Liturgy - September 24, 2017 at 3:00 p.m.
The newly ordained Bishop Andriy Rabiy will be formally welcomed in the Ukrainian Catholic Metropolia of Philadelphia with his celebrating a Hierarchical Divine Liturgy in the Ukrainian Catholic Cathedral of the Immaculate Conception in Philadelphia on Sunday, September 24th, 2017 at 3 p.m., followed by a Formal Reception in the Cathedral Hall.

Please note: on Sunday, September 24, 2017 there will not be an English Divine Liturgy at 11:00.

Please pray for our Bishop Andriy as God's Grace enables him to fulfill his episcopal ministry.


About Cathedral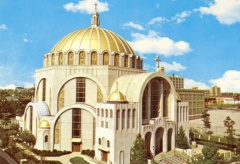 Located in the historic Northern Liberties district in Philadelphia, Pennsylvania was erected in 1966 through the effort of Ukrainian Catholics in America. This magnificent edifice, designed by Julian K. Jastremsky, replaced the old Cathedral Church which had been purchased in 1907 by Bishop Sotor Stephen Ortynsky, O.S.B.M., the first bishop of Ukrainian Catholics.
The present Cathedral, constructed to reflect authentic Byzantine architecture, is built in the same style as Hagia Sofia (St. Sophia) Cathedral in Constantinople (present day Istanbul, Turkey). It also mirrors the beauty and richness of the religious and cultural heritage of the Ukrainian people. Basic geometric forms were purposely and consistently used to develop the character of the building. Almost no ornamentation is needed, though the completion of the interior embellishments is an ongoing process which will continue over the years.