Bulletin Archive


March 29, 2020 (PDF)
March 22, 2020 revised (PDF)
March 15, 2020 (PDF)
March 8, 2020 (PDF)
March 1, 2020 (PDF)
February 23, 2020 (PDF)
February 16, 2020 (PDF)
February 9, 2020 (PDF)
February 2, 2020 (PDF)
January 26, 2020 (PDF)
January 19, 2020 (PDF)
January 12, 2020 (PDF)
January 5, 2020 (PDF)
December 29, 2019 (PDF)
December 22, 2019 (PDF)
December 15, 2019 (PDF)
December 8, 2019 (PDF)
December 1, 2019 (PDF)
November 24, 2019 (PDF)
November 17, 2019 (PDF)
November 10, 2019 (PDF)
November 3, 2019 (PDF)
October 27, 2019 (PDF)
October 20, 2019 (PDF)
October 13, 2019 (PDF)
October 6, 2019 (PDF)
September 29, 2019 (PDF)
September 22, 2019 (PDF)
September 15, 2019 (PDF)
September 8, 2019 (PDF)
September 1, 2019 (PDF)
August 25, 2019 (PDF)
August 18, 2019 (PDF)
August 11, 2019 (PDF)
August 4, 2019 (PDF)
July 28, 2019 (PDF)
July 21, 2019 (PDF)
July 14, 2019 (PDF)
July 7, 2019 (PDF)
June 30, 2019 (PDF)
June 23, 2019 (PDF)
June 16, 2019 (PDF)
June 9, 2019 (PDF)
June 2, 2019 (PDF)
May 26, 2019 (PDF)
May 19, 2019 (PDF)
May 12, 2019 (PDF)
May 5, 2019 (PDF)
April 28, 2019 (PDF)
April 21, 2019 (PDF)
April 14, 2019 (PDF)
April 7, 2019 (PDF)
March 31, 2019 (PDF)
March 24, 2019 (PDF)
March 17, 2019 (PDF)
March 10, 2019 (PDF)
March 3, 2019 (PDF)
February 24, 2019 (PDF)
February 17, 2019 (PDF)
February 10, 2019 (PDF)
February 3, 2019 (PDF)
January 27, 2019 (PDF)
January 20, 2019 (PDF)
January 13, 2019 (PDF)
January 6, 2019 (PDF)
December 30, 2018 (PDF)
December 23, 2018 (PDF)
December 16, 2018 (PDF)
December 9, 2018 (PDF)
December 2, 2018 (PDF)
November 25, 2018 (PDF)
November 18, 2018 (PDF)
November 11, 2018 (PDF)
November 4, 2018 (PDF)
October 28, 2018 (PDF)
October 21, 2018 (PDF)
October 14, 2018 (PDF)
October 7, 2018 (PDF)
September 30, 2018 (PDF)
September 23, 2018 (PDF)
September 16, 2018 (PDF)
September 09, 2018 (PDF)
September 02, 2018 (PDF)
August 26, 2018 (PDF)
August 19, 2018 (PDF)
August 12, 2018 (PDF)
August 5, 2018 (PDF)
July 29, 2018 (PDF)
July 22, 2018 (PDF)
July 15, 2018 (PDF)
July 08, 2018 (PDF)
July 01, 2018 (PDF)
June 24, 2018 (PDF)
June 17, 2018 (PDF)
June 10, 2018 (PDF)
June 03, 2018 (PDF)
May 27, 2018 (PDF)
May 20, 2018 (PDF)
May 13, 2018 (PDF)
May 06, 2018 (PDF)
April 29, 2018 (PDF)
April 22, 2018 (PDF)
April 15, 2018 (PDF)
April 8, 2018 (PDF)
April 1, 2018 (PDF)
March 25, 2018 (PDF)









Ukrainian Catholic Archeparchy of Philadelphia
Website (click here)


Byzantine Church Supplies
click on the picture to go to the site











Live-Stream Video from March 29, 2020 at the Cathedral is posted on YouTube at the following link: https://youtu.be/iM3Kn3aJ4Gk
----------------------------------------

Live-Stream Video from the Feast of Annunciation at the Cathedral is posted on YouTube at the following link: https://youtu.be/PXINdXxcHcc

----------------------------------------

Video clips from Sunday, March 22, 2020 Divine Liturgy at the Ukrainian Catholic Cathedral of the Immaculate Conception, Philadelphia, PA with Main Celebrant and Homilist Metropolitan Borys Gudziak were posted on the Archeparchy's YouTube Channel. The faithful were encouraged NOT to attend due to the Coronavirus Pandemic. The entire Liturgy was live-streamed on both the Cathedral and Archeparchy Facebook pages. https://youtu.be/_UH5FxWQPOg

--------------------------------

Liturgical Services Livestreaming
Ukrainian Catholic Cathedral of the Immaculate Conception
Philadelphia, Pa.

Click on Archieparchial Facebook page to watch: https://www.facebook.com/archeparchyphilly/


Click on Cathedral Facebook page to watch:
https://www.facebook.com/Philadelphia-Ukrainian-Catholic-Cathedral-of-the-Immaculate-Conception-139284692765626/



Message from Very Rev. Roman Pitula on Coronavirus (in Ukrainian and English languages)
Улюблені у Христі брати і сестри!

Дорогі парафіяни та прихожани Катедральної парафії!

У зв'язку з поширенням небезпечного захворювання спричиненого вірусом COVID-19, відомого як коронавірус, розпорядок Богослужінь в нашому Архикатедральному Соборі Непорочного Зачаття у Філадельфії на час карантину буде дещо змінений. Усі Великопосні та Недільні богослужіння тимчасово будуть відправлятися у Соборі ТІЛЬКИ за участі духовенства та без фізичної присутності вірних. Як знаємо, церковною владою була надана диспенза від обов'язку відвідування Божого храму у день недільний на час карантину. Проте, заохочуємо всіх наших вірних до участі у недільних Богослужіннях, котрі будуть транслюватись через засоби соціальних мереж таких як Facebook, You Tube та інші. У неділю в Катедрі буде тільки одна Божественна Літургія о 10:30 год. ранку та буде транслюватись наживо в мережі Facebook. Якщо нема доступу або хтось не користується соціальними мережами, заохочуємо до приватної чи спільно-родинної молитви та читання Святого Письма протягом принаймні 1 години.

Ці вимушені зміни вводяться згідно розпоряджень нашого Митрополита-Архиєпископа Бориса Гудзяка та ієрархів нашої Церкви у Сполучених Штатах Америки.

Просимо всіх наших вірних дуже виважено та з вирозумінням поставитися до рекомендацій медичних фахівців та кваліфікованих експертів задля забезпечення здоров'я та запобіганню поширення цього вірусу.

Щодо Святих Тайн Сповіді та Елеопомазання хворих, просимо звертатися до Катедральної канцелярії за тел.: 215-922-2856.

Залишаймось вдома, будьмо здоровими та Божого благословення всім!
З молитвою,
Всечесніший о. Роман Пітула
Настоятель Архикатедрального Собору
--------------------------------------

Beloved Brothers and Sisters in Christ!

Dear Parishioners!

Due to a pandemic of virus COVID-19, more known as Coronavirus, the schedule of the Divine services at our Archeparchial Cathedral in Philadelphia will be as follows: all Lenten and Sunday services will be celebrated temporarily by clergy ONLY and without the participation of the assembly of our Faithful in our churches. Even though that during this time of quarantine our faithful received a dispensation from the obligation to be physically present in our churches at the Sunday Divine Liturgies, all our faithful are encouraged to participate at the Sunday Divine Liturgy using social media such as, but not limited to, Facebook, YouTube, etc. On Sunday at our Cathedral there will only be one Divine Liturgy celebrated at 10:30am, and it will be live streamed on Facebook. If someone does not have access to social media sources, they are encouraged to spend at least 1 (one) hour for a private or family gathered prayer or Bible reading.

These necessary directives come to us from our Metropolitan-Archbishop Borys Gudziak and the Hierarchy of our Ukrainian Catholic church in the USA, and are based on compliance with the guidelines and prescriptions of government authorities (medical personnel and qualified experts). All this is done with thoughtfulness and care for the health of us all and to prevent spreading the virus.

As for the requests for the Holy Sacraments of Confession, Anointing of the Sick and other information you may need, please feel free to contact the Cathedral office at 215-922-2845.
Please stay home, be healthy and under God's protection!

With prayers,
Very Rev. Fr. Roman Pitula
Cathedral Rector
Memorandum from Bishops on Coronavirus
Memorandum from Bishops on Coronavirus (English version click here)



Memorandum from Bishops on Coronavirus (Ukrainian version click here)



Metropolitan Gudziak Enthroned on June 4, 2019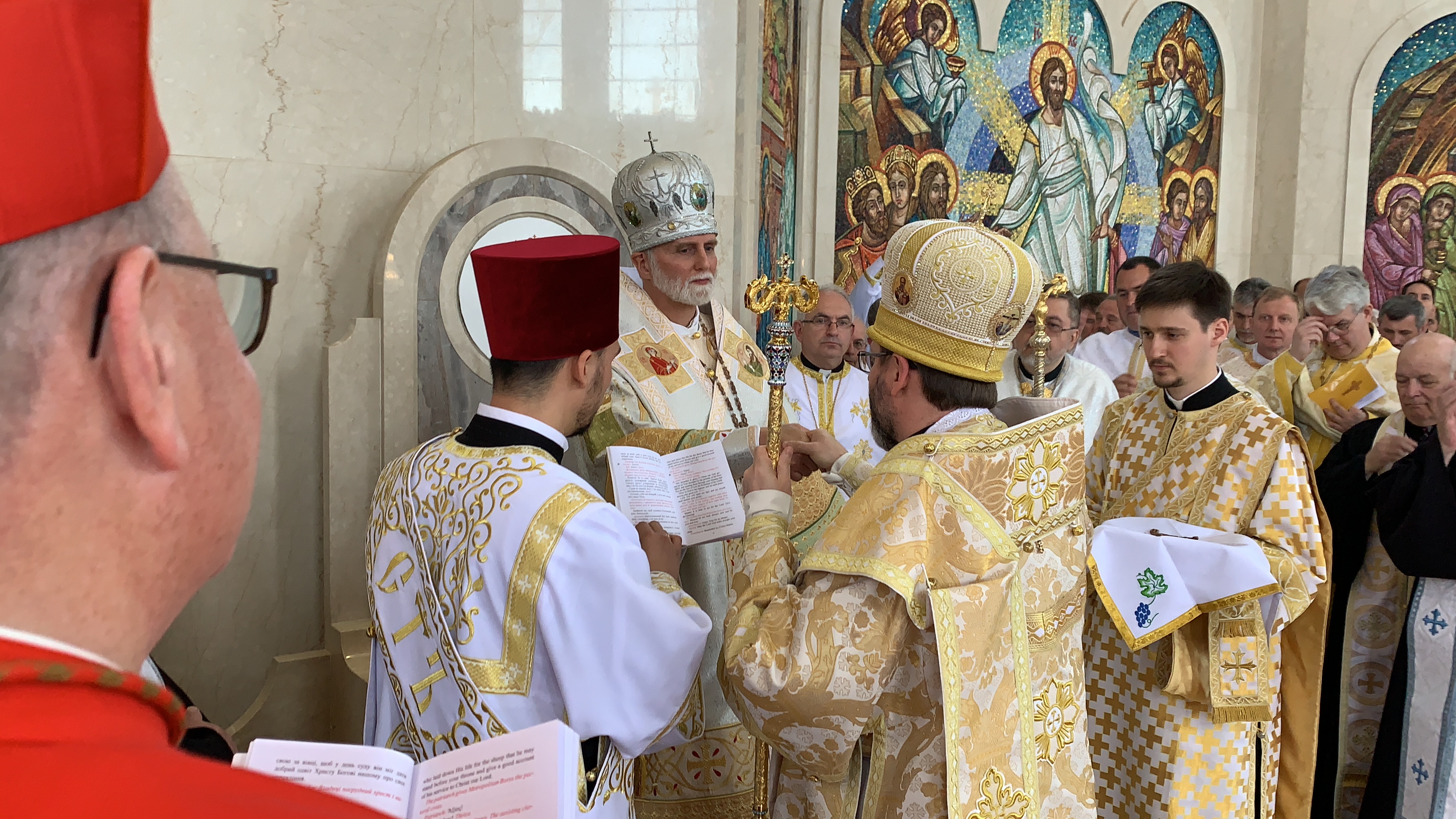 CATHEDRAL ROOF REPAIR
As many of our Parishioners may have noticed there are few roof leaks in our Cathedral, Philadelphia, PA. After contacting a roof repair company it was agreed that there is a need for roof repair by patching and sealing of the Cathedral dome and around stain glass windows. All of this requires a lot of works and leads to expenses. Total cost for this work is $65,000.00. We ask our Parishioners and all the people of good will to support this project. Please make your generous donations to the Ukrainian Catholic Cathedral.

Cathedral Rectory Office
819 N. 8th Street
Philadelphia, PA 19123-2097

About Cathedral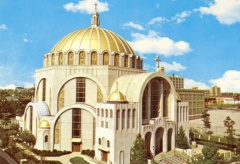 Located in the historic Northern Liberties district in Philadelphia, Pennsylvania was erected in 1966 through the effort of Ukrainian Catholics in America. This magnificent edifice, designed by Julian K. Jastremsky, replaced the old Cathedral Church which had been purchased in 1907 by Bishop Sotor Stephen Ortynsky, O.S.B.M., the first bishop of Ukrainian Catholics.
The present Cathedral, constructed to reflect authentic Byzantine architecture, is built in the same style as Hagia Sofia (St. Sophia) Cathedral in Constantinople (present day Istanbul, Turkey). It also mirrors the beauty and richness of the religious and cultural heritage of the Ukrainian people. Basic geometric forms were purposely and consistently used to develop the character of the building. Almost no ornamentation is needed, though the completion of the interior embellishments is an ongoing process which will continue over the years.